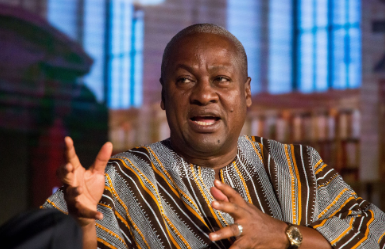 In his statement for Africa Day 2023, former President John Mahama expressed his belief that Africa holds the potential to be a beacon of hope for the world in terms of business activities. He highlighted the many opportunities available to Africans to uplift the continent.
Having participated in various events organized by the Korea-Africa Foundation in Seoul, Mr. Mahama stated it has become increasingly clear that Africa is where hope thrives. He celebrated the unity, strength, and diversity of the African continent and acknowledged its wealth of resources, dynamic nature, and its growing and vibrant youth population. He described Africa as a place brimming with limitless potential, promise, and a bright future for building Africa everyone desires.
Mr. Mahama also took the opportunity to honor visionaries such as Dr. Kwame Nkrumah, Emperor Haile Selassie, and Gamal Abdul Nasser, who laid the foundation for continental unity and promoted the ideals of pan-Africanism. During his presidency, he commended Ghana's leadership in implementing a Visa-on-Arrival policy for fellow Africans, setting an example for other African nations.
The former President emphasized the need for efficient implementation of the African Continental Free Trade Agreement (AfCFTA) and expressed his hope for Africans to travel freely within their own borders and easily explore trading opportunities. He highlighted the importance of continental unification and collaboration, especially in facing challenges like the COVID-19 pandemic.
Mr. Mahama called for collective efforts to improve healthcare delivery, promote disease prevention mechanisms, and ensure access to quality healthcare for all Africans. He stressed the significance of addressing political instability, security threats, corruption, human rights violations, unemployment, inequalities, and the absence of the rule of law, which can fuel instability on the continent. He emphasized the need to empower Africa's youth and women, eradicate poverty, promote sustainable development, and create opportunities for future generations.
Overall, former President Mahama expressed his optimism and belief in Africa's ability to lead and transform itself, urging cooperation, unity, and action toward a prosperous and united continent.
_
Source: Omanghana.com