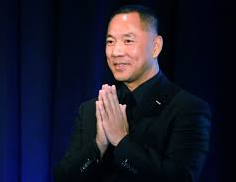 On Wednesday morning, March 16th, 2023, Chinese billionaire Guo Wengui was arrested in New York on charges of conspiracy to defraud his online followers. The authorities allege Guo orchestrated a sophisticated scheme to steal at least $1 billion from his followers, many of whom are Chinese nationals.
Guo Wengui, who also goes by Miles Kwok, fled China in 2014 and has been living in the United States ever since. He has been a vocal critic of the Chinese government and has used social media to broadcast his views to his followers.
According to the indictment, Guo and his co-conspirators used a variety of fraudulent tactics to trick his followers into investing in fake companies and phony investment opportunities. The indictment alleges that Guo promised his followers high returns on their investments and used his social media platforms to spread false information and manipulate the markets.
The indictment also alleges that Guo used his influence to pressure his followers to invest in specific companies and then used his insider knowledge to profit from those investments. In one instance, Guo allegedly made $30 million by short-selling a company he had previously promoted to his followers.
The charges against Guo include wire fraud, securities fraud, and conspiracy to commit money laundering. If convicted, he could face up to 20 years in prison.
This arrest marks a significant milestone in the ongoing effort by the Chinese government to bring Guo Wengui to justice. The Chinese government has accused Guo of corruption and other crimes and has been seeking his extradition for years. However, Guo has denied the charges and has maintained that he is a victim of a political vendetta by the Chinese government.
_
Source: Omanghana.com/SP