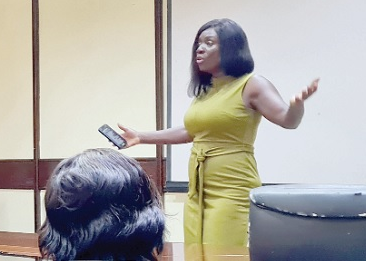 Entrepreneurs have received advice urging them to avoid overextending their businesses if they lack the financial resources, experience, and expertise to do so effectively. Instead, they should consider franchising to expand their business and increase their visibility in new areas where they currently have no presence but see potential. Florence Torsonhart, the President of the US-Ghana Chamber of Commerce, offered this guidance during a breakout session at a two-day Global Women's Professional & Business Conference held at the Accra International Conference Centre.
Franchising involves a business relationship between two entities, where one party grants the other the right to sell its products and use its intellectual property. For instance, well-known fast-food grants like KFC and Domino's operate in Ghana through franchising.
Mrs. Torsonhart cautioned that many entrepreneurs are often enticed to spend money opening new outlets in unfamiliar areas needing more knowledge or financial strength. Instead of going through such difficulties, she recommended selling a franchise to interested individuals or businesses that wish to deal in their products or services, allowing entrepreneurs to collect royalties while remaining less involved.
She emphasized that successful franchising requires the owner to maintain quality products, provide effective and efficient customer service, and establish a strong selling proposition.
Regarding business continuity planning, Mrs. Torsonhart stressed the importance of entrepreneurs engaging reputable insurance companies that offer products to ensure the business can continue operating even if the owner becomes incapacitated because of death or accidents. Such insurance coverage helps protect both the owner and employees from risks and liabilities. Besides providing peace of mind, the right insurance can offer benefits like tax deductions, help with legal matters, and access to additional capital.
Mrs. Torsonhart also introduced the "Foundations or the Trusty Tripod" concept to the participants. The first element of this tripod is a "Narrow Target Market," where she advised entrepreneurs to focus their efforts on specific segments to achieve their objectives effectively.
She used examples like Facebook, Harvard, and Amazon to illustrate the risks of spreading oneself too thin, as it can hinder the growth of startups or slow down the progress of existing businesses.
The second aspect is an "Exciting Value Proposition," which emphasizes the need for businesses to differentiate themselves from competitors by offering unique and compelling qualities. Mrs. Torsonhart emphasized the importance of having a distinct character that consistently attracts customers, even if the product or service is standard in the market.
Regarding the third point, Mrs. Torsonhart highlighted the significance of a "Scalable Marketing Plan." Entrepreneurs should develop a strategy that allows their startups to grow without compromising their budget, quality, or customer satisfaction.
Mrs. Torsonhart acknowledged that starting a business can be challenging. Still, she emphasized that with the proper focus, ambition, and the ability to learn from successful individuals, entrepreneurs can set themselves on a positive trajectory toward success.
_
Source: Omanghana.com