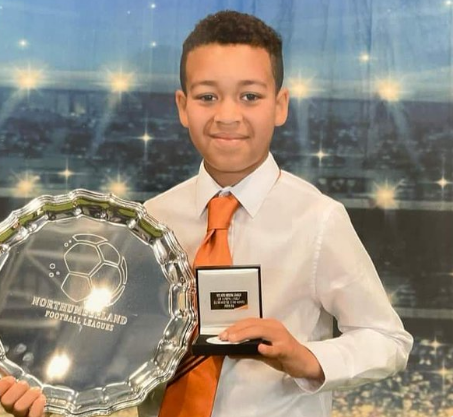 Joshua Twasam, the eldest son of the late Christian Atsu, has been awarded the title of Player of the Year in the Northumberland Football League. At just nine years old, Joshua follows in his father's footsteps and currently plays for the youth team of Gosforth Football Club. Recently, he contributed to his team's victory in the Pro Motiv8 tournament, showcasing his talent and passion for the sport. The Northumberland Football League, responsible for organizing Mini Soccer & Youth leagues and programs in England, provides a platform for children to participate in football.
The Northumberland Football Association serves as the governing body for the region, overseeing these leagues and programs.
Earlier this year, Joshua triumphed in the Pro Motiv8 tournament, prompting his mother, Marie-Claire Rupio, to share a photo of him proudly holding the trophy. In the accompanying caption, Marie-Claire expressed her belief that Joshua would make his late father proud. Her followers also conveyed their good wishes for Joshua's flourishing football career.
Christian Atsu tragically passed away on Saturday, February 18, 2023, after being discovered lifeless amidst the aftermath of an earthquake in Turkey. After days of intensive search, his body was recovered following the devastating earthquake that struck Turkey and Syria in mid-February.
From near and far, condolences poured in for the esteemed footballer's family and loved ones. On Friday, March 17, 2022, Atsu, the former Chelsea and Newcastle United winger was laid to rest in his hometown of Ada.
_
Source: Omanghana.com