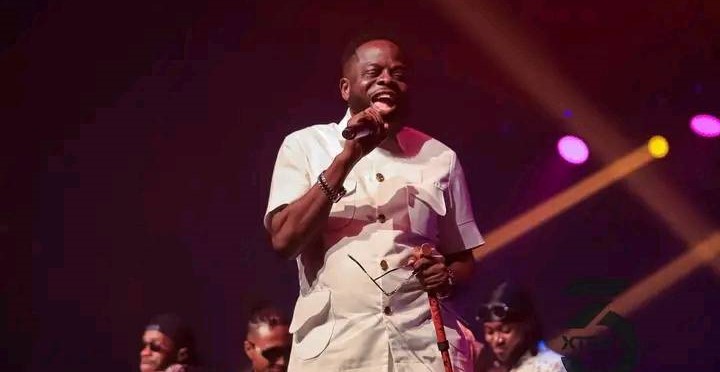 Ofori Amponsah, prominent Highlife musician, delivered a genuinely refreshing performance at the recently concluded Vodafone Ghana Music Awards (VGMA). The event occurred at the Grand Arena of the Accra International Conference Centre (AICC) on Saturday, May 6, and Ofori Amponsah's stage presence was one of the night's highlights.
Dressed in an off-white political suit and wielding a walking stick, Ofori Amponsah captivated the entire auditorium for about 10 minutes. With a medley of four timeless hits—Hello, Emmanuella, Otoolege, and Odwo—he had everyone on their feet, thoroughly enjoying his performance.
In a conversation with Graphic Showbiz, Ofori Amponsah revealed that his recent showing is just a glimpse of what's to come. During his time away from the music scene, he dedicated himself to perfecting his craft, using his silence as an opportunity for growth.
Ofori Amponsah, also known as Mr. All4Real, has faced criticism for his stagecraft, mainly when performing with a live band. However, this time, he effortlessly delivered an outstanding performance that left the audience craving more.
Speaking about the change in his performance, Ofori Amponsah said, "I have been criticized for not doing very well on stage, and as a result, I have been busy rehearsing and recording in my house. Last Saturday was evidence of all the hard work and effort I have been putting in to enhance my performance."
He continued, "When you love what you do, you work on your weaknesses and move forward; that's exactly what I've done. I believe I am improving, and my hard work is paying off. Music is my passion, so I seize every opportunity to enhance my career, taking no chances."
He said, "Ghanaians should prepare themselves for more awe-inspiring performances because I am coming back with a bang. What they witnessed at the 24th VGMA only scratches the surface of what I have in store. I have a studio in my house and a dedicated band with whom I constantly collaborate, recording songs and rehearsing to refine my act."
In 2006, Ofori Amponsah was recognized at the Ghana Music Awards, winning several prestigious awards, including Artiste of the Year, Most Popular Song of the Year, Song of the Year, Best Collaboration of the Year, Highlife Artiste of the Year, and Highlife Song of the Year.
_
Source: Omanghana.com