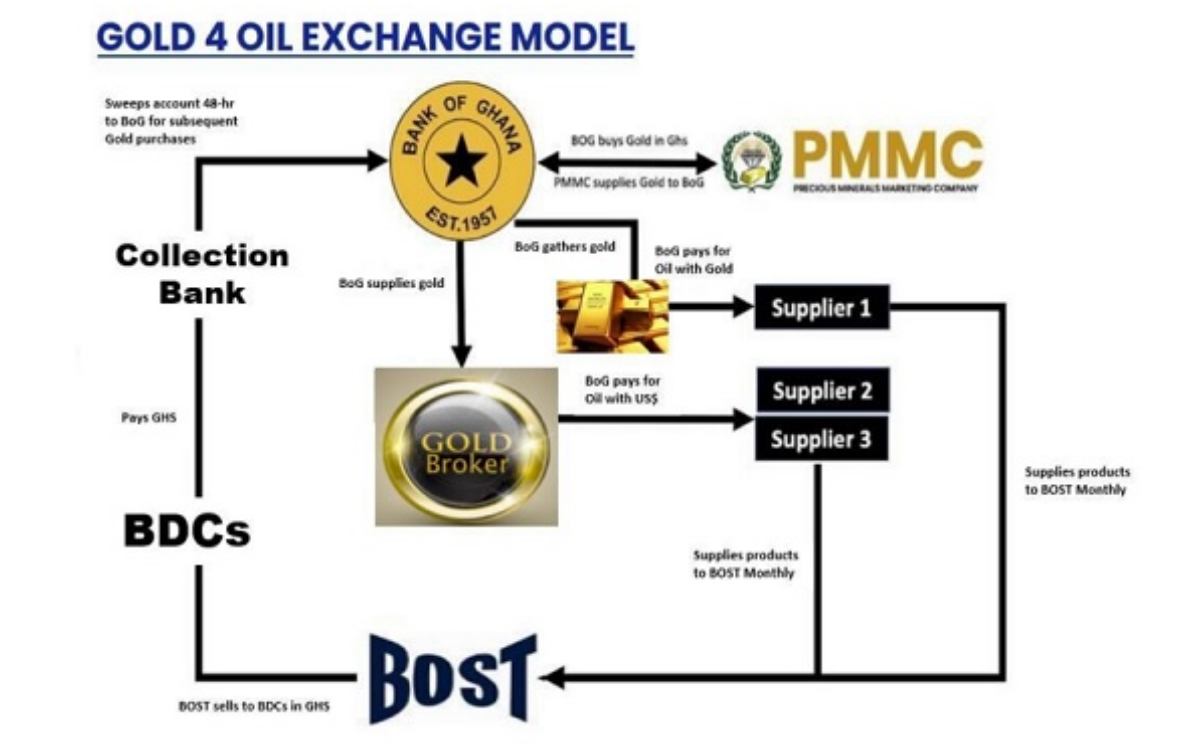 In 2018, Dr. Mahamudu Bawumia, the Vice President of Ghana, announced a revised government policy called Gold for Oil (G4O).
According to government policy, oil imports can be paid for with gold purchased by the central bank, in direct barter.
According to the Vice President, the move was made as a result of the depreciating cedi against the US dollar and the rising fuel prices. As a result of the direct gold barter method of paying for imported oil instead of depleting Ghana's foreign exchange reserves, it was explained that the move would help stabilize fuel prices. Additionally, it would reduce pressure on Ghana's foreign exchange reserves.
With the arrival of the first oil consignment last month, the Gold for Oil programme has since been implemented.
In the G40 Programme Framework published by the government on February 3, 2023, payment for oil supply is done either by barter trade or by trading gold for forex.
In exchange for petroleum products, suppliers willing to take gold on the Barter Channel will receive equivalent gold quantities from the Bank of Ghana (BoG).
"To facilitate gold transfers, both the Bank and the International Oil Trading Companies (IOTCs) must open Gold Metal Accounts at a gold refinery they have mutually agreed on."
"In order to fund petroleum product shipments, BoG accumulates refined gold at a refinery nominated by a supplier. As soon as BoG receives a Quality Certificate (QC) from Bulk Oil Storage and Transport Company (BOST) and the final invoice for petroleum products supply, the company transfers gold equivalents from its metal account to the supplier's metal account.
Broker channels allow the BoG to sell gold to a gold broker to facilitate the payment of petroleum products with forex.
The Gold Broker purchases dore gold from BoG and deposits the proceeds in BoG's gold holding account. BoG transfers funds from the gold holding account to an Escrow Account to pay for petroleum product shipment on receipt of QC and final invoice from BOST.
–
Source: Omanghana.com/SP