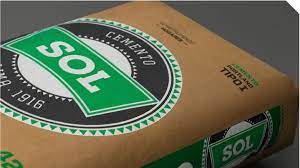 The Ghana Revenue Authority (GRA) has set the condition that SOL Cement's managers in Tema must settle at least 40 percent of their outstanding tax liabilities before they can resume operations. The GRA closed the cement factory due to GH¢700 million in tax defaults, including VAT.
The company was found to have violated VAT regulations, corporate income tax, and incurred penalties following a tax audit by the GRA. They had not paid taxes for more than two years and were given a 10-day ultimatum to settle the outstanding amount.
Kwabena Gyambra, the Commissioner of Domestic Taxes, stated that the company's proposed solutions in their discussions with the GRA were unsatisfactory, leading to the continued closure. He mentioned, "We will reopen operations once they make a 40% settlement of their liabilities and provide a realistic plan for the remaining amount."
Finance Minister Ken Ofori-Atta visited the factory to gain insights into the shutdown. He emphasized that the GRA's action marks the beginning of efforts to strengthen the country's revenue and noted that further discussions with the company would be held to resolve the issue. Ofori-Atta also acknowledged the challenges faced by companies in meeting their tax obligations, especially given the significant volume of raw materials imported for cement production.
Currently, hundreds of workers are waiting for a resolution to return to work. Wan Heng Ghana Limited, the producers of Sol Cement, had expressed their commitment to fulfilling their tax obligations and apologized for the situation in a statement issued on October 23, 2023.
Source: omanghana.com