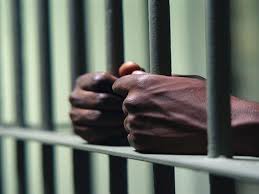 A 62-year-old illegal miner, John Tandoh, also known as Kojo Egyaguma, has been sentenced to 20 years imprisonment with hard labor by the Tarkwa Circuit Court for pouring a liquid suspected to be acid on his former girlfriend, Victoria Salamatu Safia, 35, at Prestea in the Western Region.
Tandoh, convicted of causing harm, pleaded guilty to the charge during his initial appearance before Judge Mrs. Hathia Ama Manu. This marks Tandoh's second conviction for a similar offense; he had previously been sentenced to 16 years in 2012, serving eight years before being discharged on amnesty in June 2020.
According to Superintendent of Police Juliana Essel-Dadzie, the prosecutor, Tandoh and the victim had been working as partners in an illegal mining site in Prestea for a year. After proposing love and living together, their relationship soured, leading to Victoria's decision to end it.
On October 20, 2023, a dispute arose between them at the mining site, and Tandoh, after leaving momentarily, returned with a bowl covered in a polythene bag. Approaching the victim, he attacked her, pouring a liquid suspected to be acid on her head, face, and other body parts.
Despite severe burns, Victoria screamed for help, and a nearby witness attempted to apprehend Tandoh. However, Tandoh brandished a kitchen knife, threatened the witness, and fled. Victoria was subsequently rushed to the Prestea Government Hospital for treatment.
Later that day, Tandoh was arrested from his hideout and handed over to the police in Prestea. The court, led by Mrs. Manu, delivered a 20-year sentence with hard labor in response to Tandoh's guilty plea.
Source:Omanghana.com