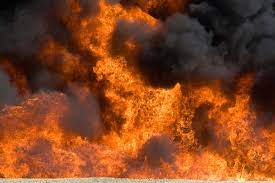 A devastating fire has swept through multiple shops located behind Kantamanto in Accra's CMB area, resulting in the destruction of goods valued at millions of Ghana cedis. The exact cause of the fire, which ignited around 5:00 am on Sunday, remains unknown. Although the Ghana National Fire Service (GNFS) promptly dispatched firefighters to the scene, the flames had already engulfed numerous shops upon their arrival.
ADO1 Alex Nartey, a Public Relations Officer of the GNFS, reported the presence of several flammable objects at the site of the fire. Despite the efforts of the firefighters, the blaze ravaged several shops entirely, leaving traders devastated and disappointed. Many of them expressed their frustration over the incident.
In response to this incident, the GNFS is advising traders to exercise caution when using electrical appliances and to refrain from storing flammable materials in their shops. This unfortunate event marks the second major fire incident to occur at the CMB market in recent years.
Source: Omanghana.com