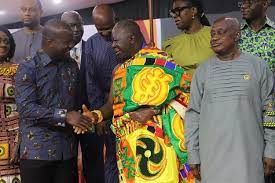 Lands and Forestry, Honorable Benito Owusu-Bio, and other ministry officials, paid a respectful visit to Daasebre Kwaku Boateng, the Omanhene of the New Juaben Traditional Area. The visit was to seek the Chief's support for the 2023 edition of Green Ghana Day, get his permission and blessings for the commissioning of the Forestry Commission's Eastern Regional Office, and discuss other matters.
During the meeting, the Minister emphasized that climate change has become a national concern. In response, President Nana Addo Dankwa Akufo-Addo established the Green Ghana Project to contribute to the fight against climate change and restore Ghana's degraded landscapes and forest cover. The Minister humbly requested the Chief to lead his people in planting 10 million trees on June 9, 2023, during the 2023 Green Ghana Day. This initiative would support the government's ambitious afforestation and reafforestation efforts.
The Minister also informed the Paramount Chief that, under the President's instructions, the Ministry is working on divesting public lands, which are of utmost importance to traditional authorities. He emphasized that Ghana's natural resources belong to the people, and the Ministry of Lands and Natural Resources will continue implementing policies and programs for their effective management and utilization, ultimately benefiting the Ghanaian population.
The Paramount Chief, Daasebre Kwaku Boateng, warmly welcomed the Minister and his entourage and granted his blessings for the commissioning of the Forestry Commission Regional Office. He commended the Minister for his dedication and hard work since assuming office. However, he expressed concern about the destructive effects of illegal small-scale mining, known as galamsey, gradually depleting Ghana's water supply. He urged the Minister to intensify efforts to halt this destruction before it completely cuts off the country's water supply. Daasebre assured the Minister of his support and the support of his subjects for the 2023 Green Ghana Day while encouraging him to visit the region more frequently.
Before visiting the Omanhene's Palace, the Lands Minister also paid a courtesy call to the Eastern Regional Minister, Honorable Seth Kwame Acheampong, who accompanied him on his tour of the region. These visits were part of the Minister's one-day tour of the Eastern Region on May 24, 2023. The purpose of the tour was to garner support for the 2023 Green Ghana Day, inaugurate the Eastern Regional Office of the Forestry Commission, and gain insights into issues concerning lands and natural resources in the regions.
_
Source: Omanghana.com