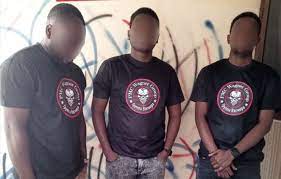 The Russian Embassy in Ghana has firmly denied any association with the leadership of the alleged pro-Russia Wagner mercenary group, which recently faced arrests by the police in Takoradi, Western Region. The Western Regional Police Command has initiated legal proceedings against three young individuals apprehended in Diabene, within the Sekondi-Takoradi Metropolis, on suspicion of having affiliations with Russia's Wagner mercenary group.
The arrest was instigated following a public gathering organized by the youth, during which they displayed and wore Wagner and Russian flags. Allegedly, with support from a sponsor believed to be from Australia, these three youths mobilized approximately 20 others with the intention of establishing a military group at the Diabene community park. However, the police acted on a tip-off and detained them.
In a statement issued on its social media platform, the Russian Embassy, formerly on Twitter, categorically rejected any claims connecting it to the distribution of Russian flags, apparel, and banners among the protesters. The embassy further emphasized its lack of contact with potential sponsors of the group.
The statement from the embassy read, "It is crucial to emphasize that neither the Embassy of the Russian Federation in the Republic of Ghana nor any other government agencies have any ties to the aforementioned unauthorized gathering. Furthermore, upon receiving information in August about the potential organization of a public event involving the use of national symbols of the Russian Federation, the Embassy promptly informed the Ghana Police."
The embassy clarified, "We want to make it clear that the Embassy had no involvement in disseminating Russian flags, shirts, placards, or any other items among the demonstrators, nor did it establish any communication with potential instigators of this disturbance, including those from overseas."
The Russian Embassy expressed confidence in the ability of Ghana's security agencies to identify those responsible and affirmed its belief in the legal process. "The Embassy is confident that Ghana's law enforcement authorities will take the necessary steps to identify all individuals connected to this incident, and the judicial system will make appropriate decisions to bring them to justice," the embassy stated.
Source: Omanghana.com