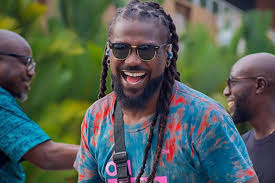 Ghanaian Reggae and Dancehall artist, Samini, exudes pride as he boldly asserts that none of the "big Four" artists – Sarkodie, Shatta Wale, Stonebwoy, and himself – can eclipse the success of his hit track, "My Own."
In his opinion, even in his absence, none of the mentioned artists could create a song that could outshine his beloved track. Samini firmly believes that in the realm of music, he occupies a unique and separate space from these celebrated artists.
He articulated his position, stating, "From where I stand, I'm fully focused on my own career, and I don't place myself on the same level as these guys when it comes to music, you know?"
Samini went on to emphasize that it is unfair to burden emerging artists with comparisons to seasoned musicians like himself. He finds it unreasonable to expect the new generation of artists to instantly attain the level of success he has achieved.
"But I think it's too much pressure on these young artists when they are pushed up to my level like that," he remarked.
In response to those who suggest that his career has slowed down, Samini responded with unwavering confidence, saying, "Go get a degree and come back." He believes that during his absence from the music scene, there have been no significant changes, and he remains convinced that none of the current hit songs can rival his own, particularly referring to 'My Own.'
Samini also acknowledged Stonebwoy for his recent project, '5th Dimension,' and noted that among the "big four" artists, the only noteworthy release came from Stonebwoy's camp.
Source: Omanghana.com