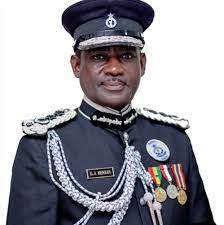 Commissioner of Police (COP) Alex George Mensah has officially announced his candidacy for the Asante Bekwai parliamentary seat in the upcoming 2024 general elections. COP Mensah, who recently retired from the Ghana Police Service, revealed his long-standing aspiration to enter parliament, emphasizing that the current moment presents the ideal opportunity to pursue this goal.
Speaking on Angel TV on Sunday, September 17, 2023, COP Mensah expressed his intention, stating, "I have harbored the intention of going to Parliament for a very long time, and now is the time for me to make it a reality."
While he previously mentioned in an interview that his family aligns with the NPP (New Patriotic Party), he did not disclose which party's ticket he will be running on.
COP Mensah has held various positions within the Ghana Police Service, with his most recent role being the Director-General, Technical. He gained prominence when allegations surfaced that he and others were captured in a video conspiring to remove the current Inspector General of Police (IGP).
Subsequently, he appeared before a bipartisan parliamentary ad-hoc committee to defend himself and criticize the IGP for allegedly mismanaging the service and restricting the flow of information within the police force.
As COP Mensah bids farewell to the Ghana Police Service, he has received numerous congratulatory messages. Furthermore, on October 2, 2023, he is scheduled to meet with the parliamentary committee investigating the leaked tape.
Source: Omanghana.com