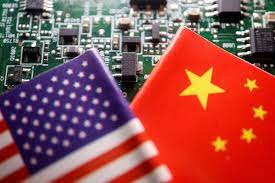 According to a prominent Chinese trade policy adviser, China's imposition of export controls on metals used in semiconductors is just the beginning. This move comes as Beijing intensifies its technological rivalry with Washington, particularly in anticipation of U.S. Treasury Secretary Janet Yellen's upcoming visit.
Investors reacted by driving up the shares of Chinese metals companies for the second consecutive session, speculating that the export restrictions targeting gallium and germanium would result in higher prices and increased revenues.
Germanium finds application in high-speed computer chips, plastics, military devices like night-vision equipment, and satellite imaging sensors. Gallium is used in radar systems, radio communication devices, satellites, and LEDs.
The sudden announcement by China, which will enforce export controls on certain gallium and germanium products from August 1, has caused companies to scramble for supplies and led to price hikes. Former Vice Commerce Minister Wei Jianguo remarked in the China Daily that countries should prepare for further measures if they continue to exert pressure on China. He described the current controls as a well-planned powerful strike that is only the beginning. Wei, who served as vice commerce minister from 2003 to 2008 and is now the vice chairman of the China Center for International Economic Exchanges, a state-backed think tank, warned that countermeasures would escalate if high-technology sector restrictions persisted.
The timing of the controls, announced just before U.S. Treasury Secretary Yellen visited Beijing and on the eve of U.S. Independence Day, was seen by analysts as a deliberate message to the Biden administration. The Biden administration has been targeting China's chip sector and urging allies like Japan and the Netherlands to follow suit.
There are concerns that China's actions may include restrictions on the export of rare earths, as seen in a previous dispute with Japan, where such restrictions were imposed 12 years ago. China is the largest global producer of rare earth metals, vital for electric vehicles (EVs) and military equipment.
Analysts consider China's recent move as a significant retaliatory measure in the ongoing U.S.-China technology dispute, following the banning of specific vital domestic industries from purchasing from U.S. memory chipmaker Micron in May.
In a separate editorial, the state media tabloid Global Times stated that this was a practical way of informing the United States and its allies that their attempts to prevent China from acquiring advanced technology were a miscalculation.
The Chinese commerce ministry has not provided further comments on the matter. When asked about the export restrictions on metals, Chinese foreign ministry spokesman Wang Wenbin stated that the government's actions were reasonable and legal. He also pointed out that some European Union states have imposed export restrictions on related goods, emphasizing that China's action was not targeted at any specific country.
While some more prominent chip manufacturers view China's export controls on gallium as a warning regarding the economic consequences China can impose, others see it more as a message signaling their ability to retaliate rather than intending to deliver a real blow.
Chipmaker NXP Semiconductors stated it evaluates how the measures will impact its business. The news of tightening supplies negatively affected some companies' shares, including Swiss sensor maker AMS Osram.
Shares in Teck Resources, the largest producer of germanium in North America, received a boost because of expectations of Shares demand. Similarly, rare earth miner MP Materials experienced a rise in its shares.
Various producers have already responded to the news. Gecamines, the state miner of the Democratic Republic of Congo, stated that its newly opened plant in September could help fill the gap in germanium production. Russia also expressed readiness to increase output to meet domestic demand.
Belgium's Umicore expressed confidence in its ability to maintain supplies to customers.
_
Source: Omanghana.com