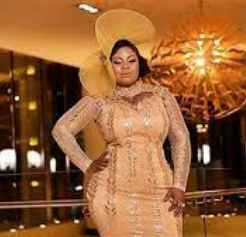 Ghanaian gospel artist, Empress Gifty Adorye, has delivered a stern warning to her acquaintances who frequently contact her husband for various reasons. Taking to her social media platform, Empress Gifty shared a self-recorded video emphasizing that any friend who dares to call her husband will face the consequences from her. She firmly stated that she does not consider her husband's friends as her own; therefore, she does not expect her friends to establish a friendship with him.
"If you are my friend and dare to call my husband, I will block your number on his phone and address the issue with you. My husband will inform me about your call, so do not interfere with my matters. I am not friends with my husband's friends, so why would I permit you to befriend him? If you cannot understand the importance of boundaries, I will assist you in comprehending it," declared Empress Gifty in the recorded statement.
The song she promotes conveys a message of motivation, emphasizing that although one's beginnings may appear troubled, putting trust in God will illuminate a brighter future.
The acclaimed gospel singer encouraged individuals not to be troubled by the actions or words of others, as their destiny lies in the hands of God and not in the hands of humans.
_
Source: Omanghana.com