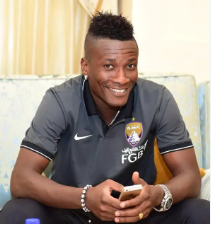 Asamoah Gyan, the renowned Ghanaian football legend, is optimistic about the Black Stars' chances of qualifying for the 2026 FIFA World Cup.
Former team captain emphasized that Ghanaians have grown accustomed to witnessing the Black Stars' participation in the global tournament, hence the importance of securing qualification.
Following the draw that placed Ghana in Group I alongside Mali, Gyan expressed his belief that Ghana would successfully qualify. Reflecting on their consistent appearances in the World Cup since their first qualification in 2006, except in 2018, Gyan highlighted Ghana's increasing familiarity with the prestigious competition. He expressed hope for a successful qualification campaign despite heightened expectations back home.
Ghana's Group I fixtures will see them compete against Mali, Madagascar, Comoros, Central African Republic, and Chad. In the draw, Ghana found themselves in Pot B alongside Burkina Faso, South Africa, Cape Verde, DR Congo, Guinea, Zambia, Gabon, and Equatorial Guinea.
The automatic qualification for the 2026 World Cup will be granted to the top nine teams from each group. The qualification process is set to span two years, starting in November 2023 and concluding in November 2025.
Source: Omanghana.com