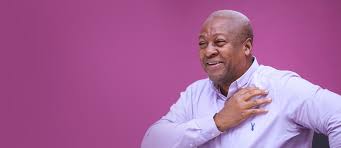 Former President John Dramani Mahama has attributed the current regression and hardships in the nation to the leadership of the Akufo-Addo-led administration. Despite a gradual decrease in the inflation rate, the government is facing challenges in revitalizing the economy, evident in an International Monetary Fund (IMF) bailout, the depreciation of the cedi against major currencies, and a worsening unemployment rate.
Speaking during his Building Ghana Tour in Wenchi, Mahama criticized the NPP administration, claiming it has hindered the country's progress, especially by halting ongoing development projects initiated during his tenure. He expressed disappointment in the perceived decline in development and prosperity, stating, "The nation is pitiful, facing hardships, and the economy is in a bad state."
Mahama had hoped that the succeeding government would continue the positive trajectory he left behind, but instead, he observed a retrogression in development. He recalled a time when Ghana held the title of the black star of Africa, being the first African country to gain independence, and encouraged the youth to maintain hope for a better Ghana. He asserted that the NDC represents the best opportunity for improved development and growth.
The Building Ghana Tour, initiated by the presidential candidate of the National Democratic Congress (NDC), commenced in the Bono Region on November 17.