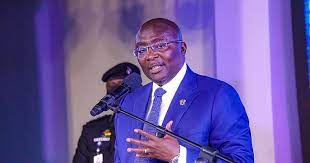 Vice President Dr. Mahamudu Bawumia asserts that former President John Dramani Mahama is not well-informed about the 24-hour economy policy he is advocating. Dr. Bawumia contends that the country is already implementing this policy, citing examples such as hospitals and fuel companies operating round the clock.
In response, Dr. Bawumia urged Ghanaians to support the New Patriotic Party in the 2024 elections and dismiss Mahama, emphasizing that the former president lacks innovative ideas. He pointed out that various sectors, including hospitals, electricity companies, water companies, fuel stations, and many eateries, already operate 24 hours a day. Dr. Bawumia argued that Mahama doesn't comprehend his own proposed policy, deeming it nonsensical.
Dr. Bawumia encouraged voters to choose him in 2024, emphasizing that he represents a new vision and policy. He positioned Mahama as a figure from the past and himself as the future, suggesting that under Mahama, the country would experience an unreliable power supply ("dumsor"), hindering the possibility of a 24-hour economy. Dr. Bawumia asserted that supporting him in 2024 would propel the country to new heights.