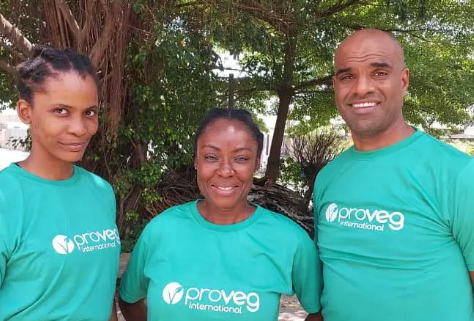 Introducing ProVeg Nigeria, a newly established organization dedicated to promoting nutritious and delectable food that is both environmentally friendly and animal-conscious. With a mission to spread awareness about the many advantages of plant-based diets, the company aims to captivate individuals nationwide.
ProVeg Nigeria's primary aim, as stated by the company, is to provide tantalizing plant-based cuisine directly to people in various settings such as markets, streets, schools, and hospitals. This hands-on approach allows individuals to experience the deliciousness of a plant-based diet personally.
Hakeem Jimo, the newly appointed Country Director for ProVeg Nigeria, expressed his enthusiasm for the opening of the organization's office and its impact on raising awareness about the necessity of transforming the food system. The focus is on aiding people in transitioning towards healthier and more sustainable dietary choices, particularly in the Global South, where land pressures resulting from animal agriculture have forced many to abandon their lands. Jimo emphasized the importance of advocating for a national strategy that promotes food innovation, especially in plant-based egg, milk, and protein alternatives.
Renowned ProVeg Chef Bola Adeyanju, who has served as an inspirational Ambassador for Chefs for Change, will be present to show how effortless and delightful it is to incorporate plant-based proteins into traditional Nigerian cuisine. Adeyanju assures popular Nigerian dishes like Suya, Asun, Nkwobi, Egusi soup, Efo Riro, and even the beloved Jollof Rice with fried meat can be prepared in mouthwatering plant-based styles. The team plans to showcase these culinary delights at local markets, universities, and various locations nationwide, inviting everyone to savor the wonders of a plant-based lifestyle.
Before joining the ProVeg global network, the Nigerian team had been actively engaging with schools, churches, and mosques and advocating for plant-based options to be included on menus of restaurants and street food vendors known as "bukkas" in Nigeria.
Marybeth Ubanwa, Campaign and Communications Manager for ProVeg Nigeria and a dedicated plant-based advocate, believes the positive impact in Lagos and Nigeria can extend across the continent and resonate with lovers of African cuisine worldwide. The organization plans to collaborate with students and influencers nationwide. It has already scheduled a speaking engagement on "Food Systems Transformation: Reimagining the Future of Protein Supply in Nigeria" at the University of Nigeria Nsukka.
ProVeg Nigeria will partner with stands in universities and markets as part of their campaign, providing free samples of 50,000 high-protein meat alternatives to allow people to experience the taste and benefits of plant-based food firsthand.
ProVeg Nigeria proudly joins the international network of ProVeg International as the 11th country to participate. Other countries in the network include China, the United States, Germany, South Africa, the United Kingdom, and more.
Sebastian Joy, President of ProVeg International, warmly welcomes Nigeria to the ProVeg family, recognizing the organization's vital role in ensuring access to well-balanced plant-based diets. By highlighting the deliciousness and healthiness of plant-based foods and raising awareness of the environmental impact of animal-based foods, ProVeg aims to inspire individuals worldwide to transition to more plant-based diets. Joy considers adding the ProVeg Nigeria team a significant step forward in achieving this mission.
Operating under the umbrella of ProVeg International, ProVeg Nigeria contributes to the global food awareness organization's goal of reducing animal consumption and replacing it with alternative proteins by 50% by 2040. In line with this aim, ProVeg Nigeria collaborates with businesses like Veggie Victory, a leading vegan food company in Nigeria.
_
Source: Omanghana.com