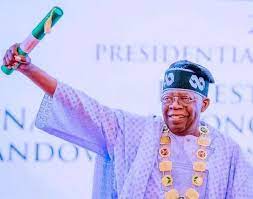 The Supreme Court has upheld the eligibility of Asiwaju Bola Tinubu, the President-elect, to take part in the presidential election held on February 25. In a unanimous decision by a five-member panel, the apex court declared that the opposition People's Democratic Party's (PDP) appeal challenging the legality of Tinubu's candidacy lacked merit. The PDP sought Tinubu's disqualification based on the argument that Senator Kashim Shettima, the Vice President-elect, was nominated for multiple positions before the 2023 general elections, violating electoral laws.
According to the PDP, Shettima's dual nomination for the Borno Central Senatorial seat and the Vice Presidential position contravened several sections of the Electoral Act 2022. The party requested the court to nullify Tinubu and Shettima's candidacies and compel the Independent National Electoral Commission (INEC) to remove their names from the list of eligible presidential candidates.
However, in the lead judgment of Justice Adamu Jauro, the Supreme Court determined the PDP lacked the legal right to interfere in the affairs of the ruling All Progressives Congress (APC), which nominated both Tinubu and Shettima. The apex court upheld the decisions of the Court of Appeal and the Federal High Court in Abuja, which had previously dismissed the PDP's case.
The Supreme Court agreed with the respondents that the constitutional provisions and electoral laws cited by the PDP did not grant them the legal standing to challenge Shettima's candidacy based on double nomination. The court clarified that only aspirants who took part in a political party's primary election had the authority to contest the nomination of a candidate by that party. The court emphasized that one political party cannot interfere in the internal affairs of another, and the PDP showed no harm or infringement of its rights and obligations.
The Supreme Court criticized the PDP for filing a frivolous appeal that could bring the judiciary into disrepute. It described the PDP's actions as a busybody meddling in its neighbor's affairs. The court considered the appeal unnecessary and advised the PDP's counsel to discourage their client from filing such suits. The Supreme Court dismissed the appeal and awarded N2 million in damages against the PDP in favor of the respondents.
_
Source: Omanghana.com