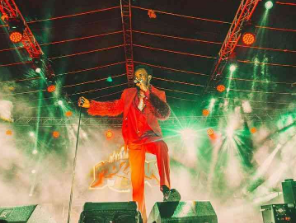 Black Sherif, a talented artist from Ghana, captivated the audience at the 2023 Wireless Festival held in Finsbury Park, London, with his electrifying performance. Building on the success of his recent tours in the United States and Europe, where he graced prominent stages like the Couleur Cafe Festival in Belgium, Summer Jam Festival in Köln, Afronation Portugal, and Open air Frauenfeld in Switzerland, he once again took the spotlight in the UK.
At the renowned Wireless Festival UK, held during the vibrant summer season, the sensational singer-songwriter showcased his immense talent and brought the crowd to life. Sharing the stage with exceptional artists such as Travis Scott, Playboy Carti, Ice Spice, 50 Cent, Fivio Foreign, and Lil T-Jay, Black Sherif delivered a high-energy performance that left a lasting impression on the enthusiastic audience.
The festival, which kicked off on Friday, July 7, drew a massive crowd of over 50,000 attendees who enjoyed the weekend festivities. Known for its dynamic lineup of A-list hip-hop artists and legendary after-parties, Wireless Festival has become an annual staple in the hip-hop scene, taking place in the vibrant setting of Finsbury Park, London.
_
Source: Omanghana.com