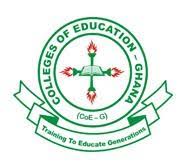 The proposal by John Mahama, the flagbearer of the opposition National Democratic Congress (NDC), to eliminate licensure exams for teacher trainees has faced opposition from the Colleges of Education Teachers Association of Ghana (CETAG).
During his 'Building Ghana Tour' in the Bono Region, Mr. Mahama announced his intention to abolish licensure exams, arguing that subjecting teacher trainees to an additional assessment for qualification is unnecessary.
In contrast to Mahama's position, CETAG asserts that licensure exams are vital and should not be discarded. The association emphasizes the exams' importance in ensuring the competence and quality of future teaching professionals. Prince Obeng Himah, the President of CETAG, stressed the unique nature of teacher training compared to other professions, noting the profound impact educators can have on entire generations, either positively or negatively.
"In my opinion, it is something that is good and it shouldn't be cancelled. That is CETAG; we have stated that we should implement what we agreed two years ago when we had a conference that students aspiring to enter the teaching profession should be subjected to entrance exams," remarked President Obeng Himah
Source:Omanghana.com