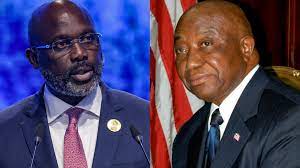 Joseph Boakai has assumed leadership in Liberia following a closely contested election, with incumbent President George Weah gracefully conceding to ensure a peaceful transfer of power. The country's elections commission reported on Friday that the 78-year-old Boakai, a former vice president, secured a narrow victory with 50.9 percent of the vote compared to Weah's 49.1 percent, nearly completing the vote count.
Weah addressed the nation, stating, "The Liberian people have spoken, and we have heard their voice. I urge you to follow my example and accept the result of the elections," while expressing optimism for a future electoral opportunity in 2029 when Boakai's six-year term concludes. This outcome represents a notable shift from 2017 when Weah comfortably defeated Boakai with 62 percent of the vote after capturing public hope with promises to address poverty, infrastructure development, and combat injustice and corruption.
Over time, disillusionment grew among voters as Weah faced accusations of not fulfilling his electoral pledges to improve conditions in the West African nation. Despite the results of Friday's vote, President Weah's early concession is significant in a region where eight military coups occurred in the past three years, raising concerns about the democratic process. Gabon, in Central Africa, experienced a coup earlier this year, highlighting the region's challenges.
Typically, elections in the region are either marred by military interventions or contested in court with fraud allegations. Boakai's supporters celebrated in Monrovia after his victory was declared, and he emphasized a message of peace and reconciliation in the aftermath. Boakai's leadership comes as Liberia strives to recover from two devastating civil wars between 1989 and 2003, resulting in at least 250,000 casualties, and a mid-2010s Ebola outbreak that claimed thousands of lives.
Source:Omanghana.com