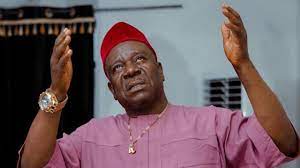 Renowned actor Mr Ibu recently underwent a series of successful surgeries, culminating in the necessary amputation of one of his legs to ensure his survival, as stated by his family.
In October, the veteran actor, whose real name is John Okafor, publicly disclosed his illness and appealed for financial aid to prevent the impending amputation. Despite efforts, the unfortunate decision to amputate his leg was made in order to save his life.
The family released a statement on the actor's Instagram page, expressing gratitude for the support received and providing an update on Mr Ibu's condition. The statement acknowledged the successful surgeries and the challenging decision to amputate one leg to increase his chances of recovery. The family continued to seek support from well-meaning Nigerians, emphasizing Mr Ibu's delicate state and the ongoing need for assistance.
In closing, the family expressed profound gratitude and assured everyone that, once stable, Mr Ibu would personally acknowledge and appreciate all those who supported him during this challenging period.
Source:Omanghana.com