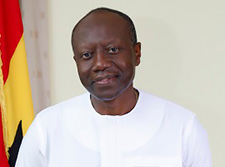 Finance Minister Ken Ofori-Atta, chair of the V20 Group, has called for a fundamental shift in climate financing and implementing innovative policies to strengthen climate resilience in Africa.
Addressing the audience through a keynote speech presented on his behalf at the recent Africa Climate Summit held in Nairobi, Kenya, Mr. Ofori-Atta illuminated the pressing imperative for African nations to gain access to climate funding while simultaneously crafting strategies that not only counteract climate change but also augment their capacity to withstand its repercussions.
"Climate change poses an existential threat to our continent, and it demands innovative solutions and immediate action," underscored Mr. Ofori-Atta.
He further asserted, "To extend eligibility for climate finance to all climate-vulnerable developing economies, including Small Island Developing States (SIDS) and Least Developed Countries (LDCs), among others, we must embrace a transformative approach."
Emphasizing the significance of multilateral financing, the Finance Minister advocated for a tripling of available resources dedicated to institutions such as the World Bank's International Development Association (IDA).
He contended that increased financial support is paramount to propelling ambitious economic and financial strategies prioritizing climate-resilient and low-emission development.
"Tripling multilateral financing, encompassing contributions to IDA and other conduits, has the potential to revolutionize our efforts," expressed Ofori-Atta.
"These funds will serve as the catalyst for the creation of climate prosperity plans and the execution of other constructive climate initiatives across Africa," he added.
Mr. Ofori-Atta underscored the pivotal role of innovative policies in facilitating climate resilience. He also recommended comprehensive policy overhauls, capacity enhancement, and the adoption of cutting-edge technologies to empower African nations to proficiently develop, monitor, and report on carbon credit projects.
In conclusion, Mr. Ofori-Atta urged African nations to unite and take bold, collective steps toward securing climate financing and implementing pioneering strategies for climate resilience.
He underscored that collaboration, innovation, and swift action are indispensable elements in securing a sustainable future for Africa and its inhabitants in the face of the escalating climate crisis.
_____
Source: Omanghana.com/SP