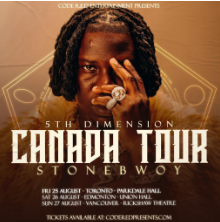 Stonebwoy, the celebrated Reggae/Dancehall artist, commenced his highly expected 5th Dimension North America and Canada Tour with a mesmerizing performance at the Bayfront Reggae & World Music Festival on July 15.
In Duluth, Minnesota, this renowned Ghanaian singer-songwriter set the stage ablaze, captivating fans with his unique fusion of infectious energy, soulful vocals, and an authentic connection that defines his remarkable artistry.
The unforgettable spectacle of the Bayfront Reggae & World Music Festival show marked a pivotal moment for Stonebwoy's much-awaited tour. It was the official launch of his extensive world tour, aptly named after his trending album, "5th Dimension."
The concert commenced with an explosion of lights and music, instantly immersing the audience in an atmosphere filled with anticipation and excitement.
From the first note to the grand finale, Stonebwoy's electrifying set showcased his immense talent and boundless creativity. His performance seamlessly integrated elements of Afropop, afro beats, Amapiano reggae, and dancehall, providing a comprehensive display of his musical repertoire. This international superstar effortlessly maneuvered through a collection of chart-topping hits, including tracks from his latest album, such as "Life & Money" featuring UK rap heavyweight Stormzy, "Manodzi" featuring multi-Grammy award-winning singer Angelique Kidjo, as well as "Therapy," "Far Away," "Apotheke," "My Sound," "Into The Future," and "Non-Stop."
The crowd responded enthusiastically to other popular singles like "Strength & Hope," "Nominate," "Activate," "Most Original," "Shuga," and "Run Go," joining together in unison to sing along.
The 5th Dimension tour will continue its journey across North America and Canada before heading to Europe later this year for a three-date UK tour.
Next on Stonebwoy's itinerary is the Emancipation Festival in Georgetown, Guyana, on August 1. Following that, he is set to perform in 10 major cities in the United States and Canada throughout August.
Regarding the "5th Dimension" album, it serves as Stonebwoy's follow-up to his 2020 LP, "Anloga Junction," released on April 28 through Universal Music Group and DefJam Recordings.
This 17-song record features notable collaborations, including "Manodzi" with multi-GRAMMY award-winner Angelique Lidjo, "Life & Money" with Stormzy, and "Into The Future." Thematically, the album explores Afrobeats, Reggae, Dancehall, Amapiano, folk, and other genres, mainly focusing on pop. It exemplifies the artist's growth and evolution, pushing boundaries and venturing into uncharted musical territories.
_
Source: Omanghana.com