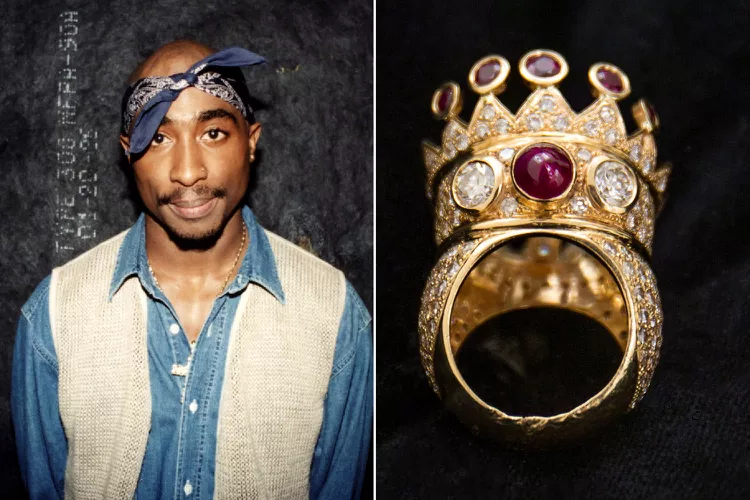 Decades after his passing in 1996, Tupac Shakur, the renowned rapper, continues to set records. Recently, Sotheby's New York announced that a piece of jewelry once owned by the "California Love" rapper was sold for over $1 million.
The auction house referred to the gold, ruby, and diamond crown ring as "the most valuable Hip Hop artifact ever sold at auction." Surpassing all expectations, the ring fetched an unprecedented $1,016,000 because of an intense bidding war that drove the price well above the initial estimate of $300,000.
Tupac's unique ring design is one of the final products of his boundless creativity. Hip Hop is a better place because of his enduring influence. Tupac commissioned and designed the masterpiece in 1996, and he proudly wore it during his last public appearance at the 1996 MTV Video Music Awards. The band of the ring bears the engraving "Pac & Dada, 1996," a tribute to his relationship with Kidada Jones, daughter of music producer Quincy Jones and the late actress Peggy Lipton, with whom he was romantically involved.
Sotheby's also revealed Tupac's design was inspired by his admiration for Niccolo Machiavelli's political manifesto, "The Prince." During his time incarcerated, Tupac became known to his fans as "Makaveli" after delving into the text. When crafting the ring, he drew inspiration from the crowns of medieval European kings.
Tupac's godmother and lifelong supporter, Yaasmyn Fula, revealed that from a young age, Tupac's mother, Afeni Shakur, instilled in him a powerful mantra: "You are our Black prince. You are my miracle, and you will make black people proud." Fula was the one who offered the ring for auction.
This is not the first time that items once owned by Tupac have appeared on the auction block. One notable example was his breakup letter to a different former flame, Madonna.
2018 Tupac's breakup letter with Madonna was auctioned off, despite the singer's efforts to prevent it. Written while he was an inmate at the Clinton Correctional Facility in January 1995, the letter started with an apology, stating that he believed their relationship could damage her career because of his "image." He mentioned his personal growth and spiritual development during his time in prison.
Recently, on June 7, Tupac was posthumously honored with a star on the Hollywood Walk of Fame. During the ceremony, his sister Sekyiwa "Set" Shakur spoke on his behalf, expressing the family's pride and gratitude for the recognition. His memory and legacy continue to shine brightly in the hearts of his supporters.
_
Source: Myjoyonline.com