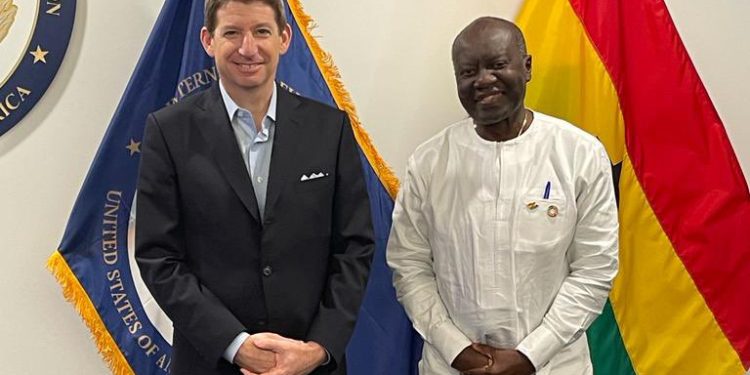 Ghana is poised to receive a financial boost of $300 million from the United States government through the International Finance Corporation (DFC) initiative aimed at supporting African countries. This private investment will be utilized in constructing Accra's groundbreaking data center.
The selection of Ghana as a recipient of this facility stems from the renewed investor confidence in the country's economy following the approval of a $3 billion bailout by the International Monetary Fund (IMF). Finance Minister Ken Ofori-Atta expressed his appreciation for this development in a tweet, acknowledging the positive impact it would have on Ghana's economic growth.
During a meeting with the US Development Finance Corporation (DFC), Minister Ofori-Atta highlighted the eagerness and readiness of the DFC to explore lending opportunities and support private sector initiatives in Ghana.
As part of the Partnership for Global Infrastructure and Investment, established at the G7 Summit, the United States government committed to constructing data centers across Africa. In line with this commitment, the DFC has announced its allocation of a $300 million loan facility to Africa Data Centers (ADCs), Africa's largest network of interconnected data facilities. This investment will enable the construction of a state-of-the-art data center in Ghana, the first of its kind.
Despite Africa being home to 17 percent of the world's population, the continent currently accounts for less than one percent of the global data center capacity. Investing in Ghana's data center seeks to address this disparity and foster a digital revolution in Africa. The aim is to enhance access to cloud-based technologies, reduce internet costs, increase connectivity for women, and position Africa as a more competitive destination for industries.
This investment follows Vice President Dr. Bawumia's recent visit to Ghana and sets the foundation for substantial progress in the digital realm across the continent. By improving access to cutting-edge technologies and lowering internet expenses, this initiative will contribute to Ghana's economic advancement and create innovative growth opportunities.
_
Source: Omanghana.com