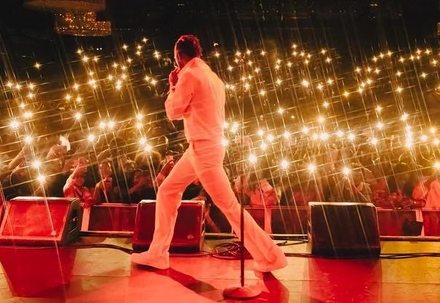 Black Sherif, the current VGMA Artiste of the Year, finally made his highly anticipated debut in New York City at the prestigious Palladium in Times Square, delivering an electrifying performance.
The Palladium, boasting an impressive seating capacity of 2,100, was packed with enthusiastic fans who were treated to an unforgettable evening. The atmosphere was charged with sensational music, creating an atmosphere brimming with excitement and vitality.
As the reigning VGMA Artiste of the Year, expectations were sky high for Black Sherif, and he rose to the occasion magnificently.
The crowd was spellbound as he graced the stage, delivering a dynamic and captivating show that left everyone in awe.
His unique fusion of afrobeat, highlife, and hip-hop stirred the crowd, causing them to sing along to every tune. Chart-toppers like "Money," "First Sermon," "Second Sermon," and "Villain I Never Was" struck a chord with the crowd, who fully immersed themselves in the music.
Following the concert, the 'Konongo Crooner' expressed his heartfelt gratitude to his fans in the diaspora for their overwhelming love and support.
"Thank you, New York City. I love you. I'll be back," he shared, accompanied by a video reel of the night that critics and fans alike have hailed as a true celebration of music and culture. His debut in New York City has further solidified his standing as one of the most exhilarating and promising artists in the industry.
Black Sherif left the stage with a profound sense of accomplishment, knowing that he had touched the hearts of his fans and left a mark on the music scene of New York City.
For those fortunate enough to witness Black Sherif's inaugural performance in New York City, it was a night of pure enchantment. The energy, the music, and the overwhelming love in the room created an experience that will be treasured for years to come.
_
Source: Omanghana.com